Eureka Springs Transit
Open-Air Tram Tours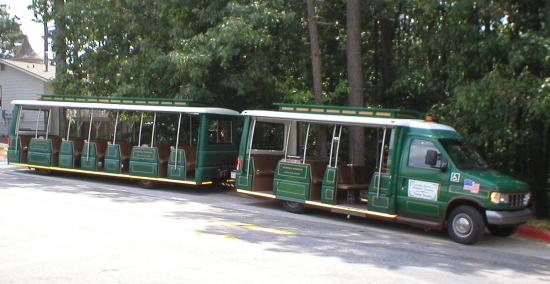 One of our Open-Air Trams. Please dress appropriately for the season & the weather.
See a different side of Eureka from one of our open-air trams.
Each narrated tour lasts approximately 85 minutes and has 2 stops,
the 1886 Crescent Hotel and one of our lovely springs, Grotto Spring.

Tour dates and times in 2023
Tuesday thru Saturday
1pm & 3pm
(March 19th & 20th for the Arkansas Spring Break)
Tuesdays thru Saturdays
1pm & 3pm
Adults: $17.00+tax
Children under 12: $8.00+tax
****Tours start at and return to the
Eureka Springs Transit & Welcome Center
(Trolley Stop #1)
137 W. Van Buren (Hwy. 62W)
We are 1/4 mile west of the intersection of Highway 62 and
Highway 23N (also known as Main Street)